Industry problems
High re-hospitalization rate and mortality of patients with cardiovascular diseases.
Low quality of life of outpatient patients with cardiovascular diseases.
Huge costs of treating patients with cardiovascular diseases.
Weak dynamics in the introduction of new technologies in the doctors' work
The project's technology
The project's technology is to change the technology of the doctor's work improving the quality of life of outpatient patients and decrease their re-hospitalization
The goal of the project
The goal of the project is to develop new software and hardware to increase the efficiency of remote physiologic monitoring system for personal and outpatient diagnostics of patients with cardiovascular diseases.
Project product
Long continuous monitoring (30 days);
Intellectual cardio sensor;
Personal diagnostic kit;
Cloud services, Big data;
Analytics, health management;
Target groups - software applications
The relevance of the project
The project has a high social significance and is in accordance with the directions of development of the medical industry of the Russian Federation. The implementation of the project results in medical practice will significantly expand the diagnostic capabilities of doctors, create a "new quality of life outside the hospital" for patients, while maintaining constant medical monitoring.
Our device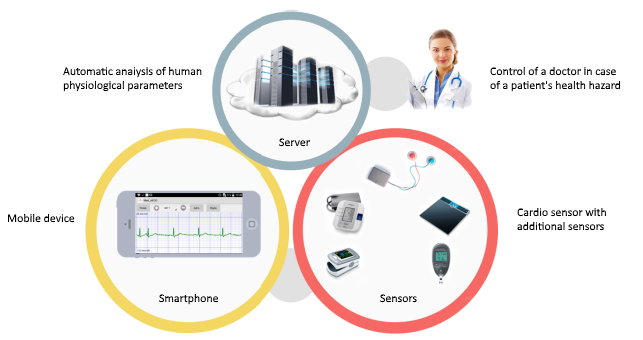 Competitors

Overseas market
Most of the medical equipment market accounts to China, Germany, Japan, Italy and the USA. At the same time, Greece (14.8%), Macedonia (12.4%), Sri Lanka (12.3%), Kazakhstan (11.7%) and Bolivia (11.1%) show particular growth in this area.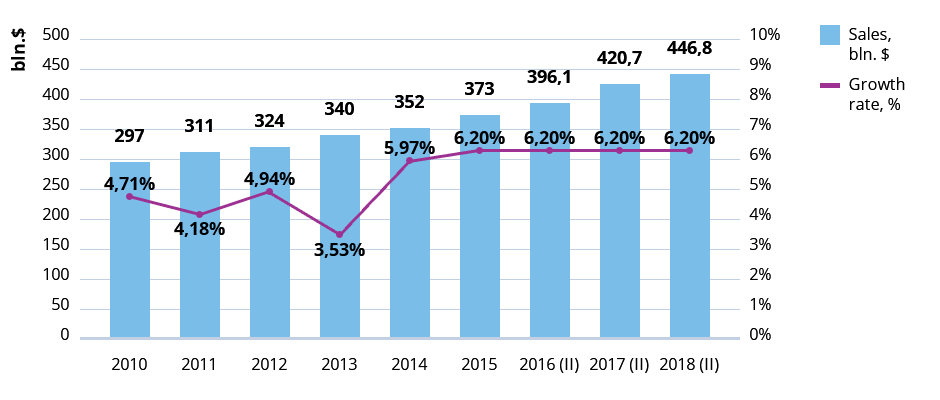 Russian market
81% of medical equipment in Russia is imported and only 19% is domestic equipment.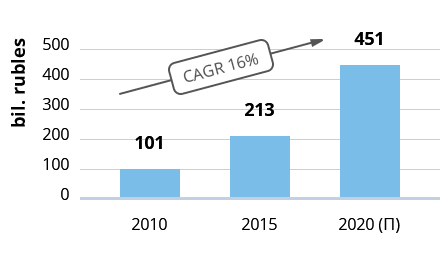 The annual volume of ECG monitoring in the Russian Federation is about 8 million days of monitoring with the prospect of growth of up to 20 million and more due to the provision of new long-term monitoring services for patients with chronic heart failure (CHF) and atrial fibrillation (AI).
AI - 2% of the population (2.9 million people), an annual increase of 145 thousand people.
CHF - 7% of the population (7.9 million people), an annual increase of 200 thousand people.
Ischemic heart disease - 19.6 million people in the Russian Federation + incidence (of new patients) 1.5 million people per year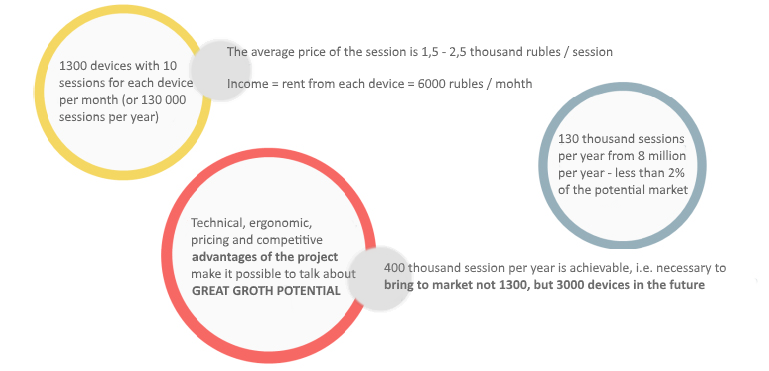 Directions of commercialization
Sale / rental of software and hardware
Monitoring services - collaboration with medical institutions to provide remote and long-term physiologic monitoring of the ECG. Patient and his attending physician will receive a professional opinion + a "second opinion".
Subscriber services - Administration of the remote monitoring system integrated at the enterprise / medical institution.
The project team
Andrey Pirogov
Project Manager
Cardiologist and functional diagnostics doctor at the Medical Research Center of the Moscow State University named after M.V. Lomonosov.
Valery Dshhunyan
Scientific director
Candidate of Technical Sciences. Five years of experience in the field of medical instrumentation.
More than 40 years in project management in high-tech industrial sectors.
Vladimir Istomin
Software
Интеграция алгоритмов анализа.
Integration of analysis algorithms. Software development. Engineer in "Software of the discharging technology and automated systems."
Dmitry Chukhlantsev
Commercialization
Direct investment, venture financing, asset management. More than 35 investment projects and more than 25 innovative projects in various regions of Russia have been implemented.