The product of the project
Antibodies and ancillary reagents for immunohistochemistry (kits for diagnosing tumors of the breast, prostate, lung, stomach, intestines, soft tissues and lymphoproliferative diseases).
ELISA kits for diagnosing veterinary infections.
ELISA and ICA kits for food quality control.
Business model
Own production (Quality control system is certified in accordance with ISO 13485: 2016)
Selling products via federal and regional distributors
Direct sales of diagnostic kits to public and private medical centers
Technology
Used antigens: synthetic peptides, recombinant proteins (prokaryotic expression and eukaryotic expression), native proteins, non-protein antigens.
Possible antibodies: rabbit polyclonal, murine monoclonal, rabbit monoclonal.
Tests under development: enzyme-linked immunosorbent assay, immune histochemical test, immunochromatographic tests.
Market Review
Market volume of antibodies and ancillary reagents by types of tumors diagnosis, 2016, the CIS, billion rubles.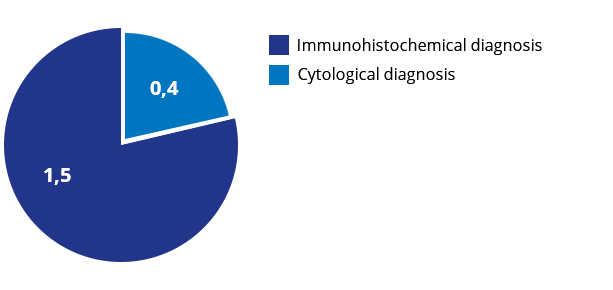 Competitive advantages
The cost of diagnostic reagents is 30 % or more lower than that of competitors.
Reduced delivery time, as the most popular antibodies and reagents are always in stock.
Direct technical support of the manufacturer.
Major manufacturers
The main suppliers of diagnostic antibodies for IHC and cytological diagnostics are Dako, Leica, Thermo and Roche. There are no Russian producers of diagnostic antibodies for medical diagnostics in the CIS.
Current stage
Registration of products in the RZN.
In the next 6-9 months the company is ready to enter the market of food control and diagnostics of veterinary infections.
Development potential
Expanding the portfolio of antibodies with a full cycle of production.
Target market can be enlarged due to veterinary tests and food tests.
The project team
Grachev Alexey Nikolaevich
Doctor of Biological Sciences, Director
Kovaleva Olga Vladimirovna
Ph.D. in biology, Head of Production Department
Kurochkin Sergey Nikolaevich
Ph.D. in biology, Head of Research and Development
Petrenko Anatoly Anatolyevich
Ph.D in biology. Senior Researcher
Samoilova Daria Viktorovna
Researcher
Financing requirement
Registration of products, the purchase of additional cell lines hybridomas and the development of their analogues to expand the portfolio of the most demanded antibodies - 30 million rubles.